11-year-old Boy Overcomes Brain Tumor Diagnosis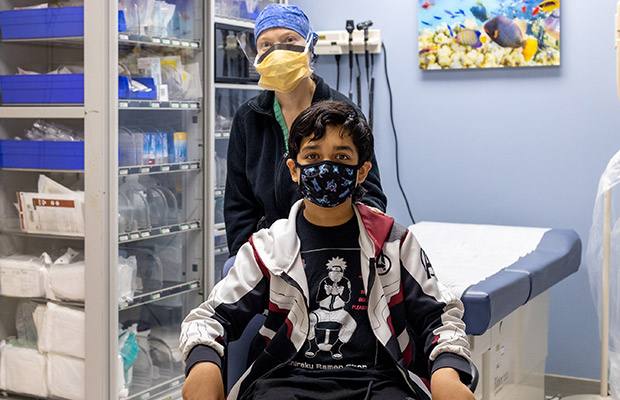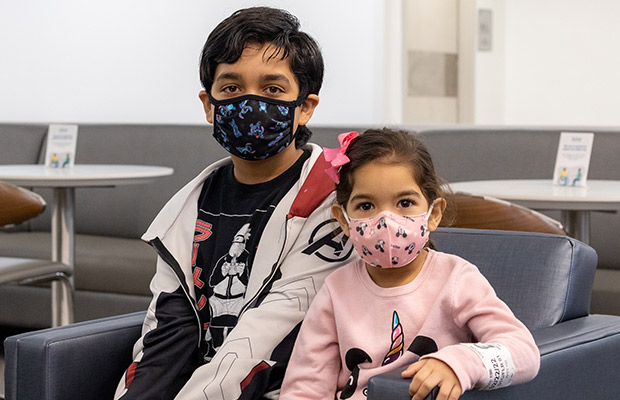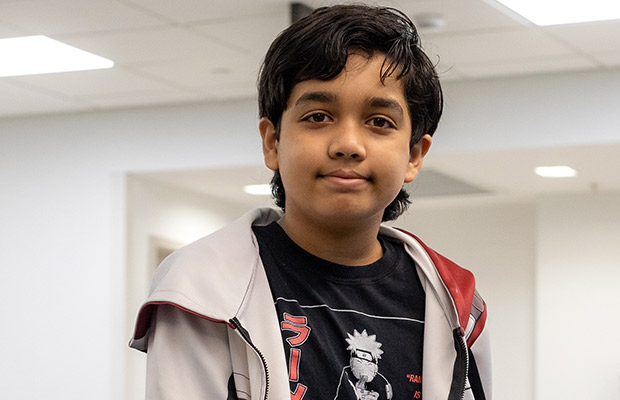 In March 2021, 11-year-old Samir Rahman started complaining of sharp pains in the back of his head whenever his parents drove over speed bumps. His mother, Shanta Reza, initially dismissed her son's concerns.
Over time, Samir's pain went away. During last year's Ramadan holiday, Reza and her family began fasting, a custom in their religion. One night, after fasting for more than 12 hours, Reza remembered Samir eating much more than he normally would. Feeling dizzy and hot, he laid down in bed, where he began to vomit profusely for the next three days.
"We weren't sure why he was vomiting," Reza said. "He threw up so much. Everything we tried to give him, he vomited – food, water, medicine. He couldn't keep anything down."
Reza and her husband became concerned, and took Samir to his primary care physician. Unfortunately, his doctor could not find the cause of the problem.
Over the next few days, Reza and her husband told Samir he did not have to fast anymore, thinking the long hours without eating or drinking might have been causing him intestinal discomfort.
Nonetheless, Samir kept vomiting.
"My husband suggested taking him to the hospital after reading that vomiting might be linked to problems in the brain," Reza said.
Reza took Samir to the pediatric emergency department at Jackson North Medical Center. Once there, he underwent a CT scan, which revealed he had a four-centimeter tumor at the base of his brain.
"When the doctors told me the news, I felt like my world had crumbled," Reza said. "No parent is prepared to hear that their child has a brain tumor."
The team at Jackson North referred Samir to Heather McCrea, MD, PhD, a UHealth – University of Miami Health System pediatric neurosurgeon and the director of pediatric neurosurgery at Holtz Children's Hospital.
At Holtz Children's, Samir received IV medication that helped control the vomiting, and underwent an MRI to confirm the brain tumor diagnosis.
"The MRI did bode well for Samir and his parents," Dr. McCrea said. "It suggested he had a low-grade tumor that once successfully removed wouldn't require any chemotherapy or radiation."
Dr. McCrea informed the parents that the tumor was operable, but there were potential risks.
"We were so happy to be at Holtz Children's and with Dr. McCrea. We knew Samir was in great hands," Reza said. "We were cautious, though. Dr. McCrea explained to us the dangers of surgery if anything went wrong. Samir could have a stroke, a brain bleed, or a seizure."
Last May, Samir underwent the operation. The procedure lasted six hours, and Dr. McCrea was able to remove the entire tumor successfully. Pathology results confirmed he had a juvenile pilocytic astrocytoma, a benign childhood brain tumor, and thus no additional therapies were needed.
"Samir woke up post-surgery doing great. We let him eat later that day and started mobilizing him out of bed the day after," Dr. McCrea said. "Though I was able to get the entire tumor out, we continued to monitor him to make sure it doesn't grow back."
Samir remained at Holtz Children's for a few more days, being monitored by his medical team and undergoing physical therapy sessions to ensure the surgery hadn't negatively affected his strength, balance, or coordination.
Today, almost a year later, Samir is fully recovered and still tumor-free, with no signs of it growing back.
"There were times my husband and I looked at Samir and didn't know if that was the last time we would ever see him," Reza said. "Dr. McCrea is our angel. I thank God, the doctors, and the nurses at Jackson North and Holtz Children's for saving my son's life."