SebastianStrong Foundation Donates More Than $13,000 In Gaming Systems, STEM Kits and Musical Instruments to Support Young Patients at Holtz Children's Hospital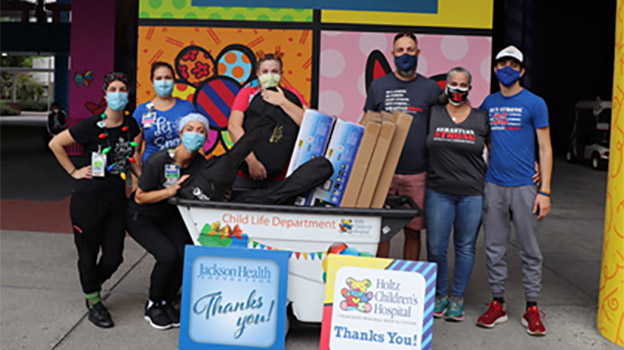 Santa came early for patients at Holtz Children's Hospital, thanks to a generous donation from the SebastianStrong Foundation.
On Monday, December 21, family members of the late Sebastian Ortiz delivered more than $13,000 in musical instruments, including guitars, ukuleles, and keyboards, to support Child Life Services, Music Therapy, and the Pediatric Oncology Unit at Holtz Children's Hospital. Gaming systems and STEM kits were also part of the contribution.
"These gifts mean so much to not only our patients, but our caregivers as well," said Hamilton W. Clark, senior vice president and chief executive officer of Holtz Children's and the Women's Hospital at Jackson Memorial. "The family and the SebastianStrong Foundation have been so good to us over the years. They very specifically gave gifts that can help to calm patients who are going through difficult – sometimes painful – procedures, and we are grateful for their generosity."
Oscar and Rose Ortiz established the Foundation in memory of their son Sebastian, a Holtz Children's patient who lost a brave 14-month battle against cancer in 2016 at age 16. The Ortiz's and their 17-year-old son, Lucas, delivered the gifts, which will provide therapeutic support for patients at Holtz Children's.
"The experience of a pediatric cancer patient is extremely challenging and now during COVID, even more so," said Oscar Ortiz. "To bring a bit of joy, a little distraction, a little bit of normalcy during such difficult times is really important to us. We wanted to honor my son Sebastian, who went through a very challenging time with his diagnosis, and these folks here in Child Life Services who were fantastic when he was a patient here."
Holtz Children's Hospital at the University of Miami/Jackson Memorial Medical Center is recognized among the best in the country, according to U.S. News & World Report's Best Children's Hospitals rankings. Holtz Children's is one of the largest children's hospitals in the southeast United States, where University of Miami Health System physicians treat children from throughout Florida and the Caribbean.
"The journey for young patients with cancer, like Sebastian, is grueling," said Flavia Llizo, co-president and chief development officer at Jackson Health Foundation. "Holtz Children's Hospital is a world-class facility, and we are proud to partner with our donors, like the Ortiz family, to make life easier for children undergoing care there. We're profoundly grateful for their support."
###
About Jackson Health Foundation
Jackson Health Foundation, a 501(c)(3) organization, is the fundraising arm for Jackson Health System, the most comprehensive healthcare provider in South Florida and the largest public hospital in the country. Through the generosity of compassionate donors, the Foundation seeks private philanthropic funds to improve the System's facilities, provide the most advanced equipment and technology, and support its priority projects. The Foundation's fundraising efforts allow Jackson Health System to provide life-saving medical care to all of its patients, regardless of financial need, and improve health care delivery, enhance the hospital experience for patients, and promote wellness and preventive medicine. Jackson Health Foundation offers several fundraising programs, including the Golden Angel Society, the Foundation's premier giving society; Guardian Angels, who are dedicated to supporting Holtz Children's Hospital; International Kids Fund Wonderfund™, a global outreach program that provides medical care to children from around the world who cannot be treated in their home countries; and the Young Angels Program, for individuals ages 21-45, who believe that participation in civic engagement activities is vital to the health of their community. Founded in 1991, the Foundation is governed by a volunteer Board of Directors committed to philanthropic activities that, to date, have raised over $140 million to benefit Jackson Health System. For more information about Jackson Health Foundation, please visit www.JacksonHealthFoundation.org or call 305.585.GIVE (4483).
About the SebastianStrong Foundation
SebastianStrong Foundation is a 501(c)3 nonprofit that is raising awareness of childhood cancers and funding research for less toxic, more targeted childhood cancer treatments and cures. SebastianStrong was founded in 2017 to honor the life of Sebastian Ortiz (2000-2016) and his courageous 14-month battle with rhabdomyosarcoma. Since then, the Foundation has awarded more than $1.2 million in grants to fund new and cutting-edge medical research across the country in the hopes of one day eradicating childhood cancers. The Foundation also provides financial support to assist kids and their families with the hardships of battling cancer. To learn more visit www.sebastianstrong.org