Jackson Health Foundation Hosts Ribbon-Cutting Ceremony For The New José Milton Memorial Hospital At Jackson West Medical Center In Doral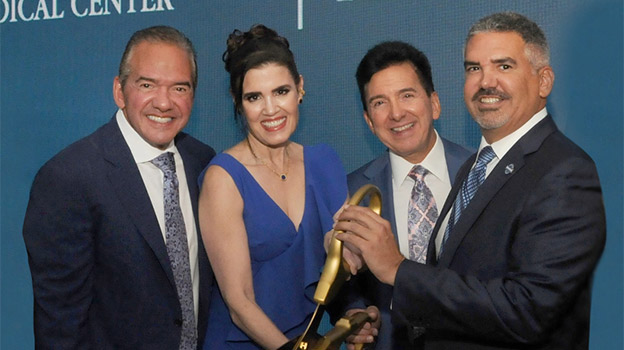 – Milton Memorial will expand access to care for more than 500,000 residents in west Miami-Dade –
Miami, FL – Jackson Health Foundation, the fundraising arm of Jackson Health System, hosted an official ribbon-cutting ceremony to celebrate the opening of the new José Milton Memorial Hospital at Jackson West Medical Center in the city of Doral on Tuesday, July 27.
"The new facility is remarkable for so many reasons," said Flavia Llizo, co-president and chief development officer of the Jackson Health Foundation. "Not only is it architecturally beautiful, but it will help deliver Jackson-quality healthcare to the people of communities in west Miami-Dade, including Doral, Miami Springs, Sweetwater, and Hialeah, who have waited far too long to have a hospital of this caliber in their own backyard."
Jackson Health System broke ground on Milton Memorial in 2017 with a generous $10 million donation from the José Milton Foundation in honor of the family patriarch José Milton, a well-known businessman who became passionate about Jackson after experiencing first-hand its high-quality level of care. José Milton's three sons, Cecil, Frank, and Joseph, his daughter-in-law, Ana VeigaMilton, and several members of the Milton family attended the ribbon-cutting ceremony.
"For many years, the Foundation's programs and initiatives have helped bring hope, healing, and a second chance at life to patients and their families throughout the Jackson system," said Ana VeigaMilton, chair of the Jackson Health Foundation Board of Directors, and president of the José Milton Foundation. "The entire Milton family looks forward to continuing to support Jackson West as it roots itself in our community. Like all of the Jackson facilities, I look forward to José Milton Memorial Hospital becoming a beacon of hope for patients in need."
José Milton Memorial Hospital at Jackson West Medical Center is also supported by individuals and corporate partners including the Arison family, Carnival Cruise Line, the Miami HEAT and Leon Medical Centers.
Jackson West, opening today, August 2, combines consumer-centered outpatient facilities – including emergency services for adults and kids, a full range of diagnostic and imaging suites, and physician clinics for adult and pediatric specialists – with the latest surgical and inpatient programs at Milton Memorial. Every aspect of Jackson West is designed around the patient, including easy-to-navigate facilities, passionately engaged caregivers, an academic partnership with the University of Miami Health System, and clinical services tailored to serve people in nearby communities.
"As Miami-Dade County's safety net hospital, Jackson provides care to everyone who walks through our doors, regardless of their ability to pay," said Llizo. "That is why the support of donors like the Milton family, the Arison family, and our corporate partners is so critical and means so much to Jackson. It allows the health system to build facilities like this and bring access to quality medical care to communities in all corners of South Florida."
To learn more about Jackson Health Foundation, visit www.JacksonHealthFoundation.org.
# # #
About Jackson Health Foundation
Jackson Health Foundation, a 501(c)(3) organization, is the fundraising arm for Jackson Health System, the most comprehensive healthcare provider in South Florida and the largest public hospital in the country. Through the generosity of compassionate donors, the Foundation seeks private philanthropic funds to improve the System's facilities, provide the most advanced equipment and technology, and support its priority projects. The Foundation's fundraising efforts allow Jackson Health System to provide life-saving medical care to all of its patients, regardless of financial need, and improve health care delivery, enhance the hospital experience for patients, and promote wellness and preventive medicine. Jackson Health Foundation offers several fundraising programs, including the Golden Angel Society, the Foundation's premier giving society; Guardian Angels, who are dedicated to supporting Holtz Children's Hospital; International Kids Fund Wonderfund™, a global outreach program that provides medical care to children from around the world who cannot be treated in their home countries. Founded in 1991, the Foundation is governed by a volunteer Board of Directors committed to philanthropic activities that, to date, have raised over $140 million to benefit Jackson Health System. For more information about Jackson Health Foundation, please visit www.SupportJHF.org or call 305.585.GIVE (4483).
About Jackson Health System
Jackson Health System is a nonprofit academic medical system offering world-class care to any person who walks through its doors. Governed by the Public Health Trust, a team of citizen volunteers acting on behalf of the Miami-Dade Board of County Commissioners, Jackson Health System ensures that all residents of Miami-Dade County receive a single high standard of care regardless of their ability to pay. An integrated healthcare delivery system, Jackson Health System consists of its centerpiece, Jackson Memorial Hospital; Jackson South Medical Center, Jackson North Medical Center, Holtz Children's Hospital, Jackson Rehabilitation Hospital, Jackson Behavioral Health Hospital, a network of UHealth Jackson Urgent Care centers, multiple primary care and specialty care centers; two long-term care nursing facilities; and a team of Corrections Health Services clinics. The new Jackson West Medical Center campus is under development in the City of Doral, which will feature adult and pediatric emergency rooms, numerous outpatient services, and the 100-bed José Milton Memorial Hospital. For more information, visit www.JacksonHealth.org.