Jackson Health Foundation's IKF Wonderfund Celebrates Circle of Heroes 11th Annual Luncheon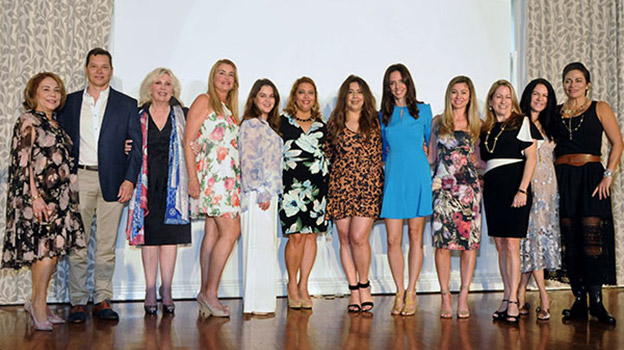 –Over $200,000 raised to support critically ill children in need of medical treatment –
MIAMI, FL – April 12, 2019 – Over 300 community and philanthropic leaders came together to celebrate the Circle of Heroes 11h Annual Luncheon at Fairchild Tropical Botanic Garden in Coral Gables. The event raised over $200,000 in support of Jackson Health Foundation's IKF Wonderfund, a program designed to help critically ill children from countries around the world gain immediate access to life-saving or life-changing medical treatments.
"The Circle of Heroes 11th Anniversary Luncheon is an annual event that supports our IKF Wonderfund," said Keith R. Tribble, Jackson Health Foundation President & CEO. "The funds raised at this event contribute significantly to our ability to help children from all over the world receive the best care possible at Holtz Children's Hospital."
The event would not have been possible without the hard work and dedication of the Circle of Heroes luncheon committee led by event co-chairs Mariana Martinez and Maria del Carmen Sarria. The luncheon committee included Gigi Arrieta, Susy Dunand-Silva, Angela Jiménez, Ana Oliveira, Mariola Vasquez, Janelle Prieto, Rosario Rico Toro and Gaby Souto, who came together and worked diligently to commemorate the special occasion.
"I am very grateful to everyone who participated in this wonderful celebration of life to support so many children in need from around the world," said Mariana Martinez, chairwoman of the IKF Wonderfund Advisory Board and a member of the Jackson Health Foundation Board of Directors. "Celebrating eleven years of our Circle of Heroes is a great accomplishment and I am thrilled with the results."
The luncheon was dedicated to Sofia Caceres. Sofia was a 2002 IKF patient who was able to receive a heart transplant. Sadly, Sofia passed away on January 1, 2019, but will always be remembered as an amazing young woman who fought valiantly for her life in the face of adversity. The luncheon honored her strength, bravery and endearing spirit. NBC 6 television anchors Kelly Blanco served as celebrity emcee, while renowned chef Michelle Bernstein catered the event.
The luncheon also received the support of numerous sponsors including Miracle Hero Sponsor – FedEx; Super Hero Sponsors – Florida National University, the Sarria Family, VUMI and ZT Corporate; and Hero Sponsors – Archdiocese of Miami (St. Augustine Catholic Church), AvMed and the Miami Dolphins Foundation.