Jackson Health Foundation's Guardian Angels Host 19th Annual Guardians of the Children Luncheon and Raised $600,000 for Holtz Children's Hospital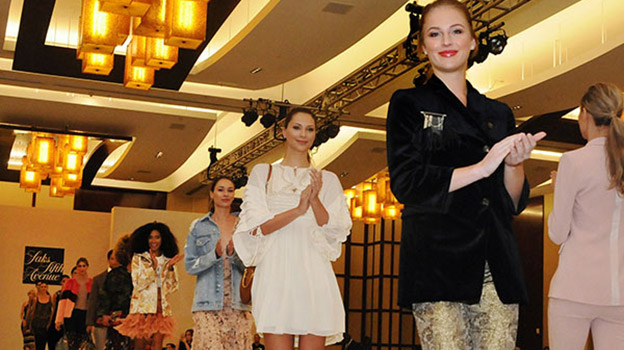 MIAMI (November 30, 2017) – Over 500 philanthropists and community leaders attended the 19th Annual Guardians of the Children Luncheon benefiting Holtz Children's Hospital at the JW Marriott Marquis Friday, Nov. 17 in downtown Miami. Thanks to an incredible show of philanthropic support, the luncheon raised more than $600,000 for Holtz Children's, who is among the nation's top children's hospitals in 2017-18, according to U.S. News & World Report. The event featured a cocktail reception and a Saks Fifth Avenue Dadeland fashion show where guests enjoyed their Fall 2017 and Resort 2018 Collections.
"The Guardians Angels Luncheon has become one of the most anticipated social events in Miami thanks to the hard work of our committee, who works tirelessly all year to educate our community on the miracles that take place daily at Holtz Children's," said Silvia Rios Fortun, Guardian Angels President. "It's our mission to bring awareness and support to this amazing and most-needed hospital."
Celebrity hostess, WPLG news anchor, Laurie Jennings, along with the luncheon committee, welcomed 45 new Guardian Angels during the event. The guest of honor was eight-year-old patient, Julia, who received life-saving treatments at Holtz Children's and the UM/JM Burn center after being in a serious car accident earlier this year. Other notable guests included Spanish television celebrities Ana Maria Canseco, Adamaris Lopez, Aleyda Ortiz, Chef Yisus, Johnny Lozada, and Maripily Rivera.
"This year's luncheon was a great success thanks to the vision and dedication of our Guardian Angels. This event is a true labor of love for our committee and we cannot be more thankful for their generosity during almost two decades of support," said Keith Tribble, President and CEO of Jackson Health Foundation.
Sponsors for this year's event included AON, Bank United, Calvin Giordano & Associates, Inc., Chateau D'esclans, Florida National University, Florida Power and Light, Ines Lorenzo Gomez, Lila Menowitz, Marquis Bank, Southern Glazers Wine and Spirits, The Jills, Valentina Victoria Gomez and Viyella Group at Morgan Stanley. Media sponsors were The Miami Herald/Nuevo Herald, Indulge Magazine, WPLG Local 10, Miami Modern Luxury, and Selecta Magazine.
For more information about next year's event and other upcoming foundation events, please contact Cristina Perez at 305.585.4483 or cristina.perez@jhsmiami.org. For media inquiries and event photos please contact Erika Mayor at 305.632.7323 or erika.mayor@jhsmiami.org. #SupportJHF