Guardians of the Children Virtual Event Raises More Than $300,000 to Benefit Holtz Children's Hospital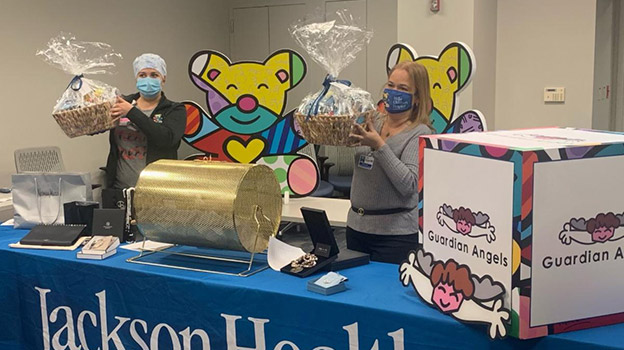 Jackson Health Foundation's (JHF) Guardian Angels hosted a virtual fundraiser on December 2 to raise funds for young patients at Holtz Children's Hospital. Proceeds from the virtual event will help Holtz Children's address its most urgent needs in the battle against COVID-19. The luncheon raised more than $300,000 to support Holtz Children's.
"This has been a challenging year for all of us," said Flavia Llizo, the Foundation's co-president and chief development officer. "It's remarkable that we can have virtual events like this to raise critical funds for patients at Holtz Children's. It makes all the difference in the world for the patients and families that are served there, and we are so grateful for the community's support, especially during these difficult times."
The 2019 U.S. News & World Report 'Best Children's Hospitals' rankings recognize Holtz Children's among the top 50 best children's hospitals in the nation. The rankings featured the top 50 hospitals in each of 10 pediatric specialties.
"In the face of a global pandemic, our Guardian Angels stepped up to the plate and worked together to support young patients who depend on Jackson for their health care," said Andria Holtz, long-time Guardian Angel, chair of this year's event, and an Executive Committee member of the JHF Board of Directors. "I'm so proud of our event committee, co-chairs, sponsors, and everyone who contributed to the success of this first-ever virtual event for the Foundation."
Sponsors of the event included Dade County Federal Credit Union, Janie and Ron Kupferman, Tova Leidesdorf, Florida Power & Light, Ryder System, Adrian Builders, Michael Blanco, Rosita Boruchin, Lila Menowitz, José Milton Foundation, Perdomo Cigars, Samlut & Company, the Center for Haitian Studies, City National Bank, Jack and Gigi Luczynski, Albert Fried, and The Miami Herald.
"I'm very happy our Guardian Angels are able to make a difference in the life of a child," said Silvia Fortun, president of the Guardian Angels and an Executive Committee member of the JHF Board of Directors. "I feel honored and privileged to be able to do this work and give back to our community during these trying times. I'm thankful for everyone who participated in our virtual fundraiser including committee members Vivian Adrian, Angela Andrade, Ana de la Fe, Fana Holtz, Ines Lorenzo-Gomez, Mari Grimalt, Debbie Robins, Marilyn Samlut, and Gloria Sesana."
To learn how you can help become a Guardian Angel and make a difference in the lives of children in need at Holtz Children's Hospital, visit https://SupportJHF.org.
###
About Jackson Health Foundation
Jackson Health Foundation, a 501(c)(3) organization, is the fundraising arm for Jackson Health System, the most comprehensive healthcare provider in South Florida and the largest public hospital in the country. Through the generosity of compassionate donors, the Foundation seeks private philanthropic funds to improve the System's facilities, provide the most advanced equipment and technology, and support its priority projects. The Foundation's fundraising efforts allow Jackson Health System to provide life-saving medical care to all of its patients, regardless of financial need, and improve health care delivery, enhance the hospital experience for patients, and promote wellness and preventive medicine. Jackson Health Foundation offers several fundraising programs, including the Golden Angel Society, the Foundation's premier giving society; Guardian Angels, who are dedicated to supporting Holtz Children's Hospital; International Kids Fund Wonderfund™, a global outreach program that provides medical care to children from around the world who cannot be treated in their home countries; and the Young Angels Program, for individuals ages 21-45, who believe that participation in civic engagement activities is vital to the health of their community. Founded in 1991, the Foundation is governed by a volunteer Board of Directors committed to philanthropic activities that, to date, have raised over $140 million to benefit Jackson Health System. For more information about Jackson Health Foundation, please visit www.JacksonHealthFoundation.org or call 305.585.GIVE (4483).