Golden Angels Centennial Gala Raises Record-Breaking $3 Million to Celebrate Jackson Health System 100th Anniversary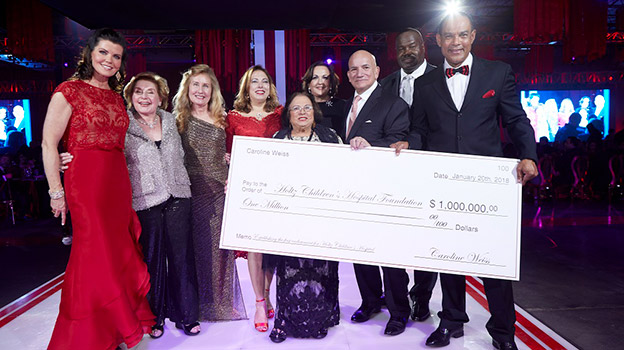 (Left to Right): Gala celebrity hostess WPLG Channel 10 news anchor Laurie Jennings; gala co-chair Fana Holtz, naming benefactor of Holtz Children's Hospital; Geralyn Lunsford, CEO of Holtz Children's Hospital; Alitza Weiss, Caroline Weiss; gala co-chair Silvia Rios Fortun; Jackson Health System President and CEO Carlos Migoya; Jackson Health Foundation President and CEO Keith R. Tribble; and Jack. Photo: Miami Model
Miami, Florida, January 25, 2018 – Jackson Health Foundation kicked off the 100th anniversary celebration of Jackson Health System with its Golden Angels Centennial Celebration Gala on January 20, 2018 at Soho Studios in Wynwood. The celebration also honored the Golden Angels, the Foundation's premier giving society, where members with a strong sense of commitment to Jackson, support its vital role in advancing the mission of Jackson Health.
The sold-out event brought more than 800 philanthropists and community leaders together for a spectacular evening of giving and festivities. $3 million was raised during the event, which was hosted by WPLG Channel 10 news anchor Laurie Jennings. This year, Fana Holtz, naming benefactor of Holtz Children's Hospital and Silvia Rios Fortun, immediate past chair of the Foundation's Board of Directors, served as co-chairs of the gala.
During the evening, the generosity of the gala's three honorary co-chairs – Irma and Norman Braman, Roberta and Harvey Chaplin and Janie and Ron Kupferman – was spotlighted. Each of the honorary co-chairs gave a significant gift for the celebration. A raffle for a 2018 Maserati Ghibli donated by Ken Gorin and THE COLLECTION was a highlight of the event. Melissa Medina and her husband Tony Jimenez, who are new Golden Angels, were the lucky winners. Wine and spirits for the centennial celebration were donated by Southern Glazer's Wine & Spirits.
Generous donors gave to the Foundation's Miracle Maker campaign, kicked off by Caroline and Alitza Weiss, who donated $1 million to establish the first endowment for Holtz Children's Hospital. Roberta and Harvey Chaplin gave an additional gift at the gala for the Chaplin Family Pediatric Emergency Room. Several new Golden Angels were honored for their contributions including Jerry Cody and Eduardo J. Gonzalez and Nilia and Lazaro Milton, who became new Golden Angels in honor of the centennial celebration. The Luis Rios Family and Peter Romero also became Golden Angels for Holtz Children's Hospital; and Elena Romanelli and family became new Golden Angels in honor of the Ryder Trauma Center saving the life of son, Gregory.
"The 100th anniversary of Jackson is a major milestone for our community," said Keith R. Tribble, Jackson Health Foundation President and CEO. "Every day, the staff makes miracles happen for the patients they serve. The generosity of donors and corporate sponsors helps to further that mission. We look forward to working with the community and the health system to make more miracles happen in the next 100 years."
The event featured an interactive exhibit, produced by the Foundation, that spotlighted the significant achievements in Jackson's 100 years of providing quality healthcare to patients in our community, regardless of their ability to pay. An inaugural after party, chaired by Eddie and Maryam Borrego, and hosted by the Young Angels, the Foundation's young professionals group, topped off a wonderful evening in celebration of Jackson Health System's 100th anniversary.
The evening was made possible because of the support of many sponsors including Platinum Sponsor, Maxor National Pharmacy Services Company; Grand Benefactors Fana and Abel Holtz, Silvia Rios Fortun and Remedios and Fausto Diaz Oliver, Greenberg Traurig, José Milton Foundation, Owens & Minor, Perkins+Will, Sodexo, Starr Catering, Wells Fargo and Whitman Family Development/Bal Harbour Shops; Cigar Sponsor, Mike's Cigars; Silver Sponsors OHL-Arellano, BR+A and Skanska; Bronze Sponsors Norwegian Cruise Line Holdings, AvMed, VALIC and VUMI; Media Sponsor Miami Herald; and Magazine Sponsors Indulge, Selecta, Modern Luxury and Ocean Drive; Event Supporter WOW MKTG; and Young Angels After Party Sponsors AT&T, FPL, Hotwire Communications and University of Miami.
Jackson Health Foundation is the fundraising arm of Jackson Health System, seeking private philanthropic support to fund the system's greatest needs. For more information about the gala and a complete list of sponsors and benefactors, please visit www.JacksonHealthFoundation.org.
About Jackson Health Foundation
Jackson Health Foundation, a 501(c)(3) organization, is the fundraising arm for Jackson Health System, the most comprehensive healthcare provider in South Florida and the largest public hospital in the country. Through the generosity of compassionate donors, the Foundation seeks private philanthropic funds to improve the System's facilities, provide the most advanced equipment and technology, and support its priority projects. The Foundation's fundraising efforts allow Jackson Health System to provide life-saving medical care to all of its patients, regardless of financial need, and improve health care delivery, enhance the hospital experience for patients, and promote wellness and preventive medicine. Jackson Health Foundation offers several fundraising programs, including the Golden Angel Society, the Foundation's premier giving society; Guardian Angels, who are dedicated to supporting Holtz Children's Hospital; International Kids Fund Wonderfund™, a global outreach program that provides medical care to children from around the world who cannot be treated in their home countries; and the Young Angels Program, for individuals ages 21-45, who believe that participation in civic engagement activities is vital to the health of their community. Founded in 1991, the Foundation is governed by a volunteer Board of Directors committed to philanthropic activities that, to date, have raised over $140 million to benefit Jackson Health System. For more information about Jackson Health Foundation, please visit www.JacksonHealthFoundation.org or call 305.585.GIVE (4483).