Chance Drawing Nets Big Results for Prize Winners and for Jackson Health System Patients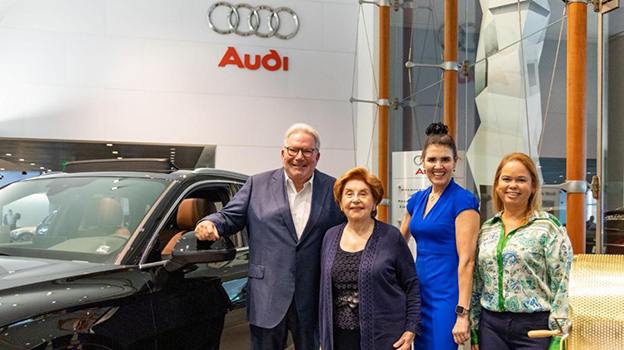 – Prizes were donated by The COLLECTION, the Miami HEAT and others. –
MIAMI, FL – Jackson Health Foundation recently held a chance drawing to benefit Holtz Children's Hospital and the Foundation's Miracle Fund. The drawing raised more than $120,000. Sponsors of the drawing included the COLLECTION, the Miami HEAT, CNN commentator Ana Navarro, and Fana Holtz, benefactor of Holtz Children's Hospital.
"We're so grateful to the donors who graciously provided our chance drawing prizes," said Flavia Llizo, co-president and chief development officer at Jackson Health Foundation. "We planned this virtual event as a way to join together and generate support for Jackson Health System after the COVID-19 pandemic made it unsafe to host our 2021 Golden Angels Gala, our largest annual fundraiser."
The Foundation recently announced the return to in-person events beginning in the fall, and followed by the annual gala, scheduled for January 29, 2022, at the new Jackson West Medical Center in Doral, home to José Milton Memorial Hospital.
Congratulations to all of our winners especially the lucky one who drove away with the grand prize in the chance drawing, which took place on May 27 at The COLLECTION | Audi in Coral Gables. The winner received a 24-month prepaid lease on a 2021 Audi Q5 2.0T Quattro, valued at $23,100, compliments of The COLLECTION | Audi.
Other winning items included:
A David Webb Flight Necklace, valued at $7,900, compliments of Mrs. Fana Holtz
An autographed Miami HEAT jersey and shoes, a gift provided by the Miami HEAT
A Pizza and Politics Party, a gift provided by Ms. Ana Navarro and Mr. Lee Brian Schrager
"Many thanks to everyone who participated in the drawing," said Llizo. "Your donations will help us continue to make miracles happen at Jackson Health System. We are extremely grateful for your support."
# # #
About Jackson Health Foundation
Jackson Health Foundation, a 501(c)(3) organization, is the fundraising arm for Jackson Health System, the most comprehensive healthcare provider in South Florida and the largest public hospital in the country. Through the generosity of compassionate donors, the Foundation seeks private philanthropic funds to improve the System's facilities, provide the most advanced equipment and technology, and support its priority projects. The Foundation's fundraising efforts allow Jackson Health System to provide life-saving medical care to all of its patients, regardless of financial need, and improve health care delivery, enhance the hospital experience for patients, and promote wellness and preventive medicine. Jackson Health Foundation offers several fundraising programs, including the Golden Angel Society, the Foundation's premier giving society; Guardian Angels, who are dedicated to supporting Holtz Children's Hospital; International Kids Fund Wonderfund™, a global outreach program that provides medical care to children from around the world who cannot be treated in their home countries. Founded in 1991, the Foundation is governed by a volunteer Board of Directors committed to philanthropic activities that, to date, have raised over $140 million to benefit Jackson Health System. For more information about Jackson Health Foundation, please visit www.SupportJHF.org or call 305-585-GIVE (4483).