Bal Harbour Shops Hosts Inaugural "Ice Cream We Love" Weekend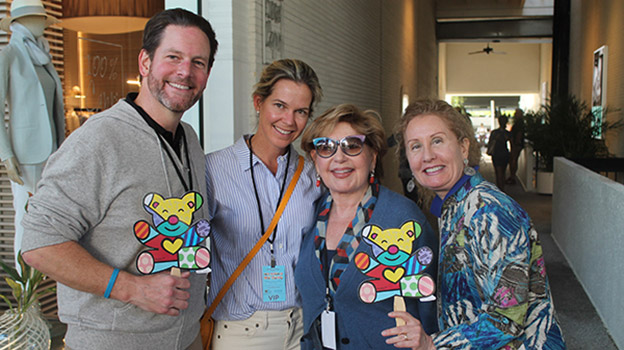 Miami, FL (Dec. 12, 2017) – Bal Harbour Shops, the top selling retail center in the country, according to Women's Wear Daily, partnered with Jackson Health Foundation and leading national ice cream makers to host a fun-filled philanthropic weekend in South Florida to benefit Holtz Children's Hospital. The luxury shopping and dining destination, just north of Miami Beach, will welcome locals and visitors of all ages to an over-the-top ice cream festival.
Attendees sampled creative confections from 18 unique ice cream vendors on Saturday, January 13, and Sunday January 14, 2018, and plans to make the event a sweet annual tradition. Over $70,000 was raised to support Holtz Children's Hospital.
The inaugural "Ice Cream We Love" celebration took place throughout the first level courtyards and second level promenades at Bal Harbour Shops, and featured a curated selection of ice cream parlor pop-up booths. Guests are invited to stroll the al fresco center, window shop and taste the fabulous flavors of celebrated national brands including Jeni's Splendid Ice Cream, Graeter's Ice Cream, Malai and Three Twins; and local, artisanal ice cream makers such as Bianco Gelato, Nanndi Homemade Frozen Cream & Pastry Shop, Serendipity, Mr. Kream, Jaxson's Ice Cream Parlor, Quality Meats, hipPOP's, Freddo, Dasher & Crank, Mr. Bing, Fireman Derek's Bake Shop, Sweetness Bakeshop, Sweet Melody, Cielito Artisan Pops and Le Zoo.
The weekend-long event celebrates the legacy of Bal Harbour Shops founder, Stanley Whitman, who was a longstanding supporter of Holtz Children's Hospital. Ice Cream was Mr. Whitman's favorite dessert and Bal Harbour Shops has created the event to honor his legacy and love for philanthropy. One hundred percent of the proceeds from ticket sales will go directly to Holtz Children's Hospital Foundation and its mission to enhance and expand pediatric specialty programs at Holtz Children's Hospital.
"We strive to create experiences that are curated for Bal Harbour Shops' guests, and have a positive impact on the surrounding communities." says Matthew Whitman Lazenby, president and chief executive officer of Whitman Family Development. "We are proud to partner with Holtz Children's Hospital in making 'Ice Cream We Love' a part of Bal Harbour Shops' heritage, and believe it will continue to grow in years to come.
To learn more about how you can support Holtz Children's Hospital, click here.
ABOUT BAL HARBOUR SHOPS
Opened in 1965 by retail visionary Stanley Whitman, the family-owned Bal Harbour Shops was the first all-luxury fashion center in America featuring high-end retailers in a tropical open-air setting. Bal Harbour Shops quickly became the most exclusive shopping destination in the nation and has remained the industry leader for more than half the century. The enduring success of this iconic fashion mecca is a testament to generations of loyal customers who have an emotional connection to the Shops. And that heartfelt connection remains at the core of Whitman family's community involvement and charitable endeavors – most notably, raising significant funds for hospitals and schools.
ABOUT HOLTZ CHILDREN'S HOSPITAL
Holtz Children's Hospital Foundation is committed to raising philanthropic support to enhance and expand pediatric specialty programs at Holtz Children's Hospital and throughout Jackson Health System. Holtz Children's Hospital, located at the University of Miami/Jackson Memorial Medical Center, is one of the largest children's hospitals in the southeast United States. Holtz Children's is known worldwide for its team of pediatric specialists experienced in treating children with all types of needs – from routine care to life-saving procedures. The name, Holtz Children's Hospital, commemorates a landmark gift from the Fana Holtz Foundation. In the spirit of giving, Holtz Children's Hospital is dedicated to providing the best medical care for all children including those who do not have the resources to pay, or are without other alternatives for lifesaving treatments.