New York Man Brought to Jackson Health System for Life-saving Neurosurgery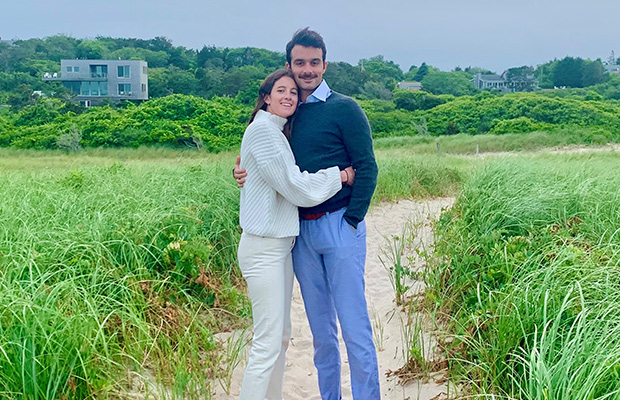 In May 2021, Zac Yezzi found himself in a life-threatening situation after he suffered a stroke.
Yezzi and his fiancé were in St. Barts planning their wedding, when one morning, the 30-year-old began developing a splitting headache that lasted throughout the day. He then lost vision in his right eye, followed by function in his right arm and leg. Somehow, he managed to drag himself to the bathroom and splashed himself with water.
"I was not aware of how traumatic my injury was then, but I knew something was terribly wrong," Yezzi said. "I asked my fiancé to dial emergency services and request an ambulance."
Yezzi was rushed to a nearby hospital, where a CT scan revealed that he had a large, eight-centimeter hemorrhage on the left side of his brain, which controls speech. The average hemorrhage is measured in millimeters.
With no neurologist on staff at the hospital in St. Barts, Yezzi was flown to a larger hospital on the nearby island of Guadeloupe. He arrived alone, afraid, and in agonizing pain, unable to communicate with his medical team, who only spoke French.
In Guadeloupe, doctors performed additional tests on Yezzi's brain, and the results revealed an arteriovenous malformation (AVM) –an abnormal connection between arteries and veins, which would require complex neurosurgery that the hospital was not equipped to perform.
The AVM was determined to be the cause of Yezzi's initial stroke and hemorrhaging.
While this was happening, Yezzi's family had contacted the Bee Foundation, an organization that raises awareness about brain aneurysms and hemorrhages. The foundation played a crucial role in getting him transferred by connecting his family with a French-speaking neurosurgeon to communicate with the medical staff in Guadeloupe.
After two days, Yezzi was medically evacuated to Jackson Memorial Hospital. He was accompanied by his fiancé and his father, who were finally able to arrive in Guadeloupe despite multiple flight complications.
"The days leading up to my medevac were two of the longest days of my life," Yezzi said. "During the flight to Miami, the pressurized cabin was causing me indescribable levels of pain, but I was just relieved to have my fiancé at my side."
Upon arriving at Jackson Memorial, Yezzi was immediately placed in the neurointensive care unit, where he and his family met with Robert M. Starke, M.D., a University of Miami Health System neurosurgeon and neuroradiologist.
Dr. Starke walked Yezzi and his family through his diagnosis and recommended surgical embolization of the aneurysm and AVM and a craniotomy to remove the aneurysm as the best course of action if they wanted to prevent any recurring brain bleeds.
"Zac should consider himself fortunate," Dr. Starke said. "Normally, a brain bleed as big as his has the potential to squash the brain, which could lead to death or severe long-term damage."
After considering his choices, Yezzi elected to undergo surgery.
"I owe everything in my life to Dr. Starke! He and his team saved my life," Yezzi said. "He's an incredible surgeon. I'm so lucky to have been transferred to Jackson Memorial."
Yezzi and his fiancé are back home in New York City, where he's resumed work. He has made a full recovery, regained his sight, as well as the function in his right arm and leg.
He's working on promoting awareness and the importance of early detection of brain aneurysms and AVMs to prevent others from having to go through a similar injury.