Miami Gardens Resident Burn Survivor Shares her Gratitude to the Miami Burn Center Team that Saved her Life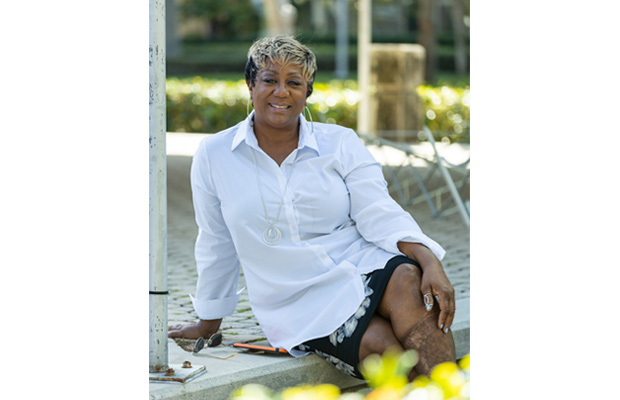 In August 2017, Karen Hunter-Jackson and her son were turning into the driveway of their home in Miami Gardens, when a speeding motorcycle crashed into them. The motorcycle's gas tank exploded, sending flames running under Hunter-Jackson's car.
"The first thing that came to my mind was 'Stop, Drop and Roll,'" remembers Hunter-Jackson. "This is was the lesson I learned in grade school."
She and son ran through the fire to escape the burning car. She was wearing shorts and sandals and suffered burns up to 30 percent of her body. Her son was not hurt. The driver of the motorcycle was killed on impact.
Hunter-Jackson was immediately rushed to the Miami Burn Center, where she was treated for burns on both legs and her right arm. She underwent a series of skin grafts to her legs and arm, and was released from the hospital two months later.
"In the months I spent at the Miami Burn Center, I became family with most of the doctors, nurses, techs, rehab and occupational therapists," said Hunter-Jackson. "I couldn't have asked for a better experience under those circumstances."
Hunter-Jackson, who underwent physical therapy to learn how to walk again, is also an active member of the Burn Survivor Support Group at the Miami Burn Center.
She's currently undergoing laser treatments at the Miami Burn Center, which will help minimize her scars, and improve her flexibility.
Hunter-Jackson expressed her gratitude during Burn Safety Festival at Jackson Memorial Hospital.
The Miami Burn Center in collaboration with City of Miami Fire Rescue and Miami-Dade Fire Rescue hosted the festival to raise awareness and educate the public about burn safety and prevention. The Burn Center is one of the leading, most comprehensive burn treatment centers in the nation, treating hundreds of patients – from babies to adults – each year.
"As good as the team is at taking care of burn injuries, the best thing, of course, is to prevent it from happening at all," said Louis Pizano, medical director at Miami Burn Center
According to the American Burn Association (ABA), every year more than 450,000 serious burn injuries occur in the United States that require medical treatment.