Man Recovers from Traumatic Brain Injury after being Hit by a Car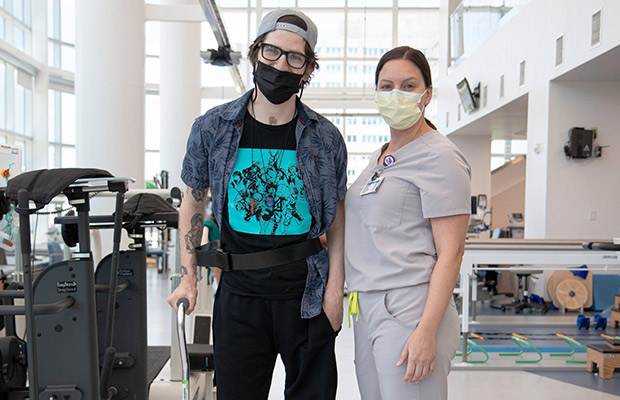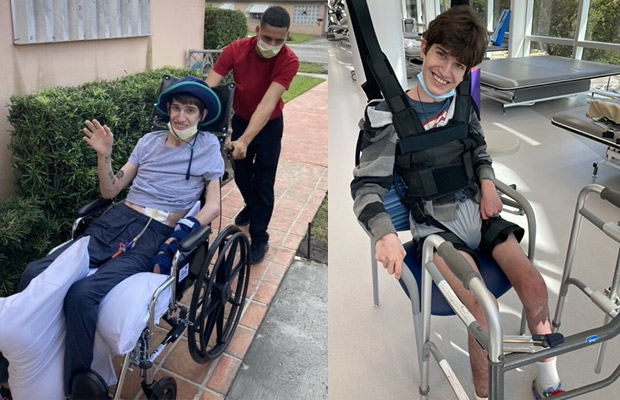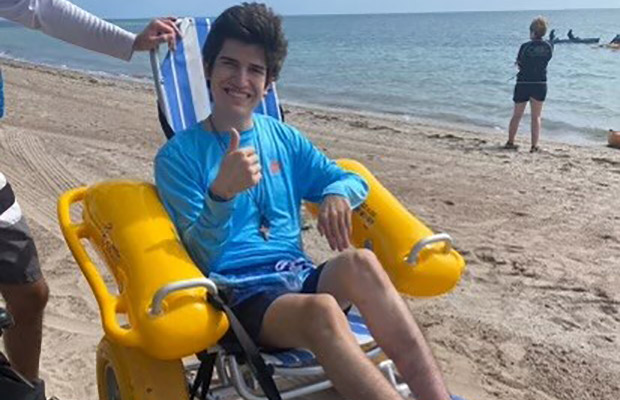 In May 2020, Lucas Martinez, then 21, was driving his motorcycle on Interstate 95 when he lost control of his bike and was flung onto the busy highway. Confused and unaware of what had happened, he stood up and began walking towards his motorcycle on the opposite side of the interstate. Moments after attempting to cross through traffic, Martinez was hit by a car.
He was rushed to Ryder Trauma Center at Jackson Memorial with multiple fractures to his lower extremities and a traumatic brain injury (TBI).
"I hadn't heard from Lucas in more than 24 hours, so when two police officers knocked on my door, I braced myself for the worst," said Christine Martinez, Lucas' mother. "This happened near the beginning of the COVID-19 pandemic, and I couldn't see him while he was in the hospital, which made the situation even harder."
Martinez remained heavily sedated at Ryder Trauma for several weeks while recovering from his injuries.
He was discharged on June 10, 2020, but would require intense rehabilitation to relearn how to walk, eat, and talk.
Three months after leaving Ryder Trauma, Martinez was admitted into Christine E. Lynn Rehabilitation Center for The Miami Project to Cure Paralysis at UHealth/Jackson Memorial.
"For TBI patients, inpatient rehab is the first step of the recovery process that can continue for months or even years," said Lauren Shapiro, MD, a UHealth – University of Miami Health System physician who specializes in traumatic brain injuries and physical medicine and rehabilitation at Lynn Rehabilitation Center.
When he arrived at Lynn Rehabilitation Center, he was only able to move his right arm, could not speak, and was receiving nutrients through a feeding tube. Over the next several weeks, Martinez would undergo intense physical, occupational, and speech therapy.
He was discharged on October 30, 2020, and was able to speak, eat solid foods, and move his left arm on his own.
"I can't remember anything between May and October 2020," Martinez said. "My first vivid memory was being discharged from Lynn Rehabilitation Center."
However, he still had a long way to go in his recovery. Martinez relied on his wheelchair, family, and caretaker to help him with day-to-day tasks. He would continue receiving outpatient therapy at Lynn Rehabilitation Center.
"Those first few months of outpatient rehab were difficult," Martinez recalled. "It was a mental and physical challenge."
On March 24, 2021, he completed one of his first major milestones. With the help of his physical therapist, Jill Collum, he took his first steps since his accident.
In the months that followed, Martinez graduated from speech therapy, started walking with the help of a walker, and began to participate in a peer support group for TBI patients.
"When I got to Lynn Rehabilitation Center, I was shy and didn't want to speak with other patients or my therapists," he said. "The more I progressed in therapy, the more I broke out of my shell. Now I want to help encourage other TBI patients through their recovery."
This newfound attitude helped Martinez overcome the difficult hurdles brought on by his injury.
"I've been working with Lucas for more than a year and a half. In the beginning, he wasn't able to sit up or roll over onto his side," Collum said. "He has been through so much in two years. He was completely dependent on his care team and family, and now he's walking on his own."
Today, Martinez continues to receive outpatient physical and occupational therapies. While he still has a long road to recovery ahead of him, his positive attitude and strong support from his family, friends, therapists, and doctors motivate him to keep progressing.
"My accident helped put things in perspective for me," Martinez said. "I've gained a new appreciation for life, and it's all thanks to the incredible team at Lynn Rehabilitation Center. They pushed me every day to help get me where I am today."