Former Miami Hurricanes Football Player Donates Kidney To Longtime Friend and Teammate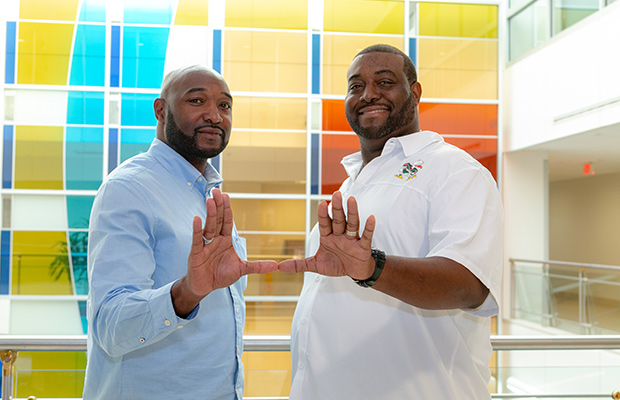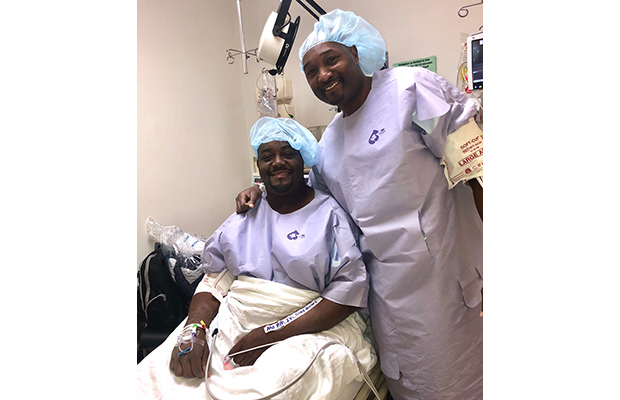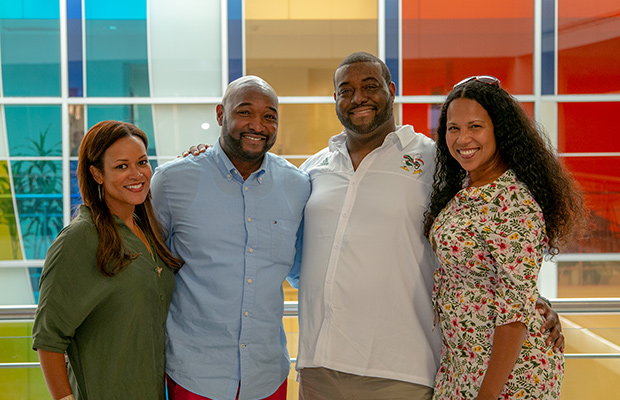 Gerard Daphnis and Jermaine Chambers were top recruits in the University of Miami's football program; they forged a strong friendship on the field, one that has withstood the test of time.
When Daphnis needed a lifesaving kidney transplant, Chambers secretly got tested to see if he was a compatible donor. Just days before Christmas 2018, he shared the results with Daphnis in a handwritten card: "I'm your guy – see you on January 10. #CanesForLife."
"It took a few minutes for it to click," Daphnis said. "Once it did, it was very emotional. For the first time in a long time, I felt like there was hope, a chance that I was going to be okay."
The successful transplant surgery at Jackson Memorial Hospital was performed by Gaetano Ciancio, MD, MBA, FACS, the Miami Transplant Institute's chief medical officer and director of the kidney and kidney-pancreas transplant programs, Mahmoud Morsi, MD, CPHQ, abdominal transplant surgeon, along with a multidisciplinary team.
"Everyone at Jackson, at the Miami Transplant Institute – they're awesome," said Chambers. "They all worked together to make this whole thing possible; they helped me save my friend's life."
The pair first met in 1992, soon after being recruited by UM. Chambers, a wide receiver from Homestead Senior High and Daphnis, a tight end from Miami Norland Senior High, were already making headlines in Sports Illustrated during their freshman year of college. They became fast friends as they both looked to make their mark on the football field and the world.
But shortly after graduation, Daphnis was diagnosed with diabetes. For several years, no one knew just how much his health had deteriorated. He subsequently started dialysis.
"It all started when I stepped on a nail while pouring a new driveway at my house," recalls Daphnis. "I went to the ER, got a tetanus shot and went on my way. I thought I was okay."
The injury led to several fractures and a serious infection that would not go away. He underwent two surgeries and a series of painful debridements – the medical removal of the dead and damaged tissue to save the healthy tissue remaining in his foot.
But the father of five was hit with even more bad news.
His foot was not getting better and one of the antibiotics he had been prescribed had further compromised his already damaged kidneys.
"My kidneys were functioning at about 60 percent before that," recalls Daphnis. "Now they were down to 11 percent."
Barely able to get around and in near-constant pain, Daphnis was retaining fluid. He ballooned to 410 pounds.
"I felt like a cross between Frankenstein and the Michelin man," he said. "I had difficulty walking and difficulty breathing."
His health issues led to his foot being amputated. Five-hour sessions of dialysis – three times a week – were keeping him alive. Doctors determined his best chance at survival was a kidney transplant.
That is when Daphnis learned about the Living Donor Kidney Program at the Miami Transplant Institute, an affiliation between Jackson Health System and UHealth – University of Miami Health System, the second largest transplant center in the United States.
After undergoing testing, his wife Harriett had been deemed a potential match. But she was later rejected as a donor. Months later, a friend also offered to be a donor, but was also determined not to be a viable match.
"That really took a lot out of me," Daphnis said. "It was a tough pill to swallow."
Around the same time, Chambers reached out to Harriett and expressed interest in being the donor. As he went through the necessary testing, they decided not to tell Daphnis.
"We didn't want to get his hopes up and disappoint him," said Chambers. "He'd already been through so much."
But Chambers turned out to be the perfect match.
Today, Chambers, 45, and Daphnis, 44, are both healthy and have become advocates for organ donation.
During April's National Donate Life Month, both Daphnis and Chambers were speakers at the annual Miami Transplant Institute reunion event at Jackson Memorial Hospital, where transplant survivors share their stories of how transplantation has impacted their lives in the hopes of promoting the importance of becoming an organ donor.
Nearly 200 attendees, including former patients, doctors, and transplant staff, attended the dinner.
"They're the best doctors in the world," chimed in Daphnis. "And Jermaine is my hero, even if he doesn't like me to say that."