Five-year-old cancer survivor inspires with #Love4Salma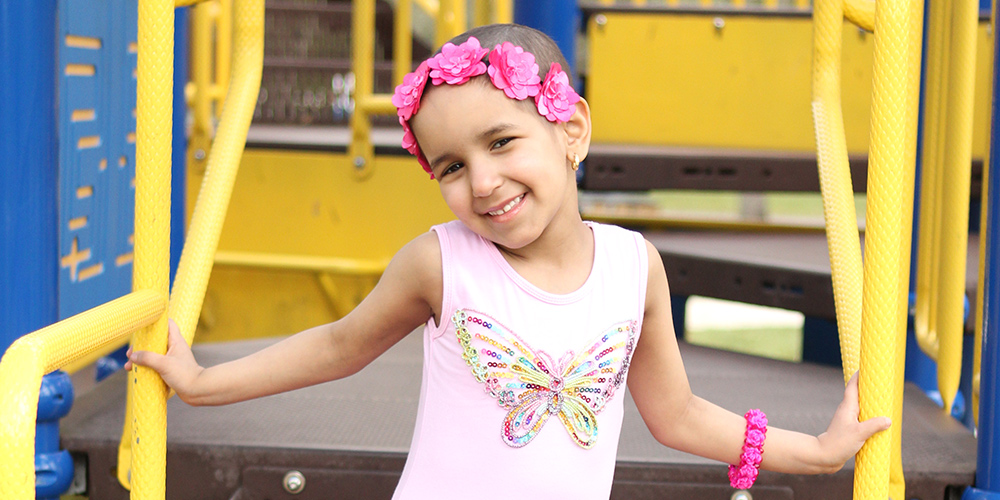 In March 2014, the Richani family was vacationing in Miami from their native Venezuela when then 4-year-old Salma had trouble walking and complained of severe back pain. Her parents, Dr. Kaled Richani and Elizabeth Richani, brought her to the emergency room at Holtz Children's Hospital at the University of Miami/Jackson Memorial Medical Center.
After several tests, they received the worst news of their lives: Salma had neuroblastoma, a rare type of cancer that affects the nervous system in young children.
"As a family we felt vulnerable, lost, and horrified that our little princess was in danger," said Salma's father, Kaled. "The news was devastating because of the uncertainty of not knowing what would be her future."
Since then, Salma has courageously battled the disease – undergoing dozens of hospitalizations, multiple rounds of chemotherapy, and a stem cell transplant at Holtz Children's. Through it all, she's always remained in great spirits with a positive outlook.
"At Jackson, we discovered a home. Salma's physicians became our friends, but our greatest strength came from the nurses who always had patience and affection when treating our daughter," Kaled said. "They gave us that peace of mind we sought."
Throughout Salma's treatment, her family was always by her side. Her father would wake her up every morning with music, something that always made her smile.
Salma's parents recorded a video of their daughter singing and dancing to her favorite song, "Volví a Nacer" – "I am reborn" – by Colombian superstar, Carlos Vives. The video went viral and was shared by thousands on the Internet. It even caught the attention of Vives. The singer visited Salma at Holtz Children's and invited her to attend one of his concerts, in which she was astounded when he asked her on stage to sing with him.
Salma captivated the hearts of all those who crossed her path. She also received countless messages through social media using the hashtag, #Love4Salma.
As Salma completed her last round of treatment, her parents planned a surprise flash mob to greet her as soon as she left the hospital. Nearly 100 people participated, including members of the local community, Salma's caregivers from Holtz Children's, her family, and friends.
"I wanted to show her with this token of love that she would not return to the hospital to sleep, that there were no more immunotherapies, transplant operations, everything was over," Kaled said. "Coming to the end of her hospitalization was a great victory."
Click here to watch video footage from the flash mob event.