Friday, April 22, 2022, 7 p.m.
The annual Golden Angels Gala is one of the most glamorous and anticipated social events of the season. Our Golden Angels Gala honors the generosity of the many philanthropists who have contributed to making miracles happen at Jackson Health System. Our Golden Angels have raised millions to support Jackson's mission and generously host our gala each year.
This year we are coming together at Soho Studios located in Miami's art district of Wynwood to honor some of Jackson's finest medical professionals and raise funds that will help Jackson continue to provide world class care in South Florida.
For the safety of all, COVID-19 safety protocols will be strictly enforced. We will require our guests to show proof of vaccine or submit a 72-hour negative PCR test prior to our event date. No exceptions will be made. We thank you for your support during these unprecedented times.
Attire: Black tie optional
Ticket Information
To purchase tickets please click below.
Committee Members
Golden Angels Gala Chairs
Ana and Cecil Milton

Golden Angels Gala Committee
Trish Bell
Rebeca Herrero
Laura D. Komar
Marile Lopez
Lynette Lorenzen
Yvette Macias Ortega
Diana Puig
Laura Renzi
Silvia Rios Fortun
Ana Trejos
Suzy Wahba

*committee members as of 11/10/21
Jackson Health Foundation gratefully acknowledges the dedicated, thoughtful and compassionate doctors that go above and beyond and have dedicated their lives to giving hope to their patients. They are our Jackson legends: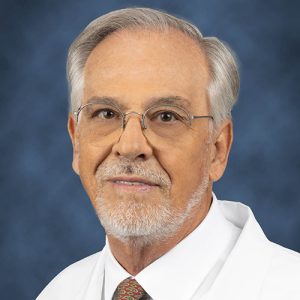 Dr. Eduardo Bancalari
Neonatology, Holtz Children's Hospital
Dr. Eduardo Bancalari is the chief of the division of neonatology and newborn service at Holtz Children's Hospital, and an Emeritus Professor of Pediatrics at the University of Miami Miller School of Medicine. He is consistently recognized both nationally and internationally for his expertise in and contributions to the fields of neonatology and perinatal medicine.
During his career that has spanned over five decades, Dr. Bancalari has saved the lives of thousands of newborn babies – some born more than four months early, critically ill, weighing less than a pound. Dr. Bancalari's tiny patients survive and thrive – often against all odds – because they are in his caring and capable hands. Every patient receives his undivided attention, and the way he reassures and calms worried parents is an art. Thousands of preemies born over the last 50 years in Miami-Dade County and beyond are alive because of him.
---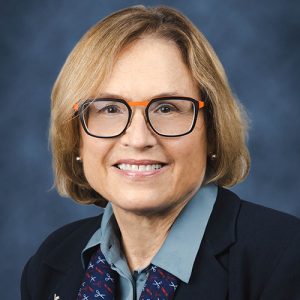 Dr. Patricia "Patty" Byers
Trauma Surgery/Critical Care Medicine
Ryder Trauma Center at Jackson Memorial Hospital
Dr. Patricia Byers specializes in general surgery, critical care, nutritional support, and intestinal rehabilitation. She is a professor of surgery at the University of Miami Miller School of Medicine and a faculty member in the Division of Trauma Surgery and Surgical Critical Care. She completed her residency at Jackson Memorial Hospital in 1985. She is a graduate of the University of Miami Miller School of Medicine.
A pioneer of medicine with more than 30 years experience as a trauma surgeon at Ryder Trauma Center, Dr. Byers was the first female surgeon on faculty at Jackson. She is proud of how far the system has come today in diversity and inclusion.
Dr. Byers is very involved in the state trauma system and worked for years to make the trauma service a priority. She is an advocate for injury prevention and has served as the Florida State Trauma Medical Director and chairperson of the American College of Surgeons Florida Committee on Trauma. She has received numerous awards and accolades for her contributions and dedication to the medical professional in the field of surgery and injury prevention.
---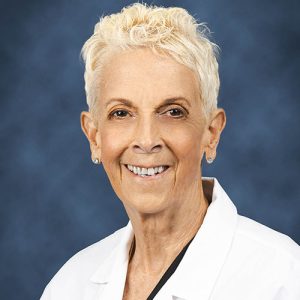 Dr. G. Patricia "Patti" Cantwell
Pediatric Critical Care, Holtz Children's Hospital
Dr. Cantwell is the Division Chief of Pediatric Critical Care Medicine at Holtz Children's Hospital, where she leads highly specialized medical teams in caring for some of the sickest children in South Florida.
While helping to save lives is a top priority for Dr. Cantwell, so is improving the lives of those who may never fully recover. Dr. Cantwell has championed Holtz Children's palliative care practices, with a focus on maximizing the overall quality of life for children diagnosed with terminal illness or life-limiting illnesses. She is known for going above and beyond for her patients – not only medically, but through caring gestures and creating memorable experiences for them.
Outside of her role at Holtz Children's, since 1994, Dr. Cantwell has been a member of the Urban Search and Rescue Team/South Florida Task Force 2, a search and rescue team sponsored by the City of Miami that is deployed to areas of destruction after some of the most horrific disasters. She combed the wreckage of the Twin Towers following the 9/11 attacks, spent a month in parts of Mississippi and New Orleans following Hurricane Katrina, and helped rescue survivors buried for days under the rubble following the 2010 earthquake in Haiti. Most recently, she aided in the search and recovery mission following the Surfside building collapse.
She is a graduate of the Bowman Gray School of Medicine at Wake Forest University while enrolled in the US Navy Health Professions program. She completed her Pediatric Residency Training at the Portsmouth Naval Hospital and served as a Pediatrician in the US Navy Medical Corps until 1987. Dr. Cantwell completed her Pediatric Critical Care Fellowship at Jackson Memorial Hospital in 1989.
Her areas of expertise include trauma care and emergency medical services, disaster medicine/urban search and rescue, pediatric advanced life support, and palliative care.
Dr. Cantwell has received multiple awards throughout her distinguished career, including being named a Health Care Hero by the Greater Miami Chamber of Commerce, a Pediatric Champion by the Woman's Cancer Association of the University of Miami, and recognition by the FEMA National US&R Response, Medical Specialist Operations Community.
---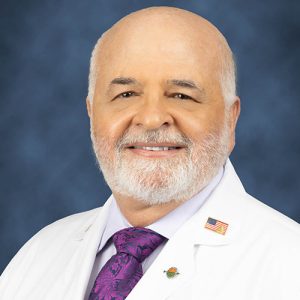 Sir Dr. Gaetano Ciancio
Transplant Surgery, Miami Transplant Institute at Jackson Memorial Hospital
Dr. Ciancio serves as the chief medical officer, chief academic officer, and the director of the kidney and kidney-pancreas programs at the Miami Transplant Institute. Dr. Ciancio is also the director of advanced uro-oncology surgery at the University of Miami Miller School of Medicine, performing some of the riskiest urological cancer cases.
He plays a key role in executing MTI's strategic plan, promoting and developing physician relationships, growing academic programs, and guiding other key initiatives.
A graduate of the Universidad Central de Venezuela, Dr. Ciancio began his career at the University of Miami in 1986, with training in both surgery and urology, before concluding with a fellowship in multi-organ transplantation. For years, his dedication has been recognized with multiple teaching awards in both urology and transplantation.
Dr. Ciancio is a pioneer in developing multiple novel surgical techniques dealing with difficult renal, adrenal, and testicular cancer. He has performed transplant surgeries and urology oncology surgeries around the world and helped to establish transplant programs in Latin America and the Caribbean, including Haiti, where he performed the country's first kidney transplant. Without a doubt, his life's mission has been to save lives and he has done so with grace, compassion, and unmatched expertise on a daily basis.
His work goes far beyond his clinical efforts, providing research opportunities for others in the field to learn from. Dr. Ciancio has authored or co-authored multiple books, book chapters and peer-reviewed articles published in medical journals on topics involving the field of solid organ transplantation and urologic oncology. He has served as President of the Urologic Society for Transplantation and Renal Surgery.
Throughout his storied career, Dr. Ciancio has been the recipient of numerous awards, including the Honorary Citizen, National Award, Commune di Roccapiemonte in Salerno, Italy and the Honor and Merit Award by the Haiti Transplant Foundation. He has also received a special recognition – the Dr. Martin Luther King, Jr. Spirit Award – for his contributions in health care to the African American community in the U.S.
In 2018, he went to Buenos Aires, Argentina to inaugurate an operating room named after him for decades of dedication and teaching in the field of transplantation in Argentina and Latin America. In 2019, he was accepted in the Iron Arrow Honor Society, the highest honor attained at the University of Miami. In January 2021, he received the Francis Moore Excellence in Mentorship in the Field of Transplantation Surgery Award. Just recently on January 21, 2022, he was awarded one of Italy's highest honors: Knight of the Order of the Star of Italy (Cavaliere dell'Ordine della Stella d'Italia) conferred by the President of the Republic of Italy Sergio Mattarella.
---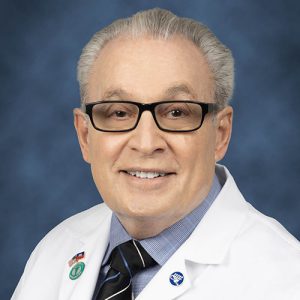 Dr. Barth Green
Neurosurgery, Jackson Memorial Hospital (Recently Retired from Practicing Surgery) Founder, Miami Project To Cure Paralysis
Dr. Green was named Executive Dean for Global Health and Community Service after serving 22 years as Chairman of the Department of the Neurological Surgery at the University Of Miami Miller School Of Medicine. He is a Professor of Neurological Surgery, Neurology, Orthopedics, Radiology, and Rehabilitation Medicine and a world-renowned specialist in the surgical management of complex spine and spinal cord injuries and disorders Dr. Green received his B.A. from Indiana University in 1966 and his M.D. from Indiana University School of Medicine in 1969. He completed his general surgery training at the Henry Ford Hospital in Detroit from 1969-1970 and his neurosurgical residency from 1970-1975 at Northwestern University in Chicago.
---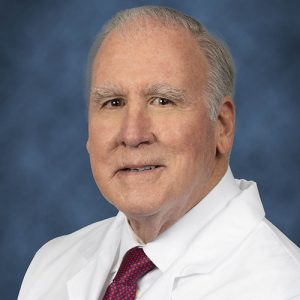 Dr. Roberto Heros
Neurosurgery, Jackson Memorial Hospital
Dr. Heros graduated first in his class at University of Tennessee's Medical School. After completion of his Neurosurgical Residency at Massachusetts General Hospital (MGH), he became the Director of Cerebrovascular Surgery at MGH and ascended through the ranks to Professor at Harvard. He then moved to University of Minnesota as Chairman of the Department of Neurosurgery, Professor, and Acting Chairman of the Neurology Department and Vice Chair of the Medical School Practice Plan. In 1995, he moved to the University of Miami as Professor, Program Director, Co-Chairman of the Department of Neurosurgery and founding Director of the U/M International Health Center.
---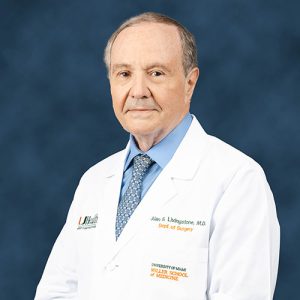 Dr. Alan Livingstone
Former Chief of Surgery, Jackson Memorial Hospital
Dr. Livingstone specializes in Surgical oncology with particular interest in cancers of the esophagus, stomach, liver, biliary system, adrenal gland, pancreas (Whipple procedure), and colon, general surgery, sarcomas, gastric reflux disease (GERD), achalasia, hepatocellular carcinoma, retroperitoneal tumors, gastrointestinal stromal tumors (GIST), Zenker's diverticulum, tumors involving IVC (inferior vena cava) and other esophageal disorders. He completed his residency at Jackson Memorial Hospital in 1985. He is a graduate of McGill University School of Medicine.
---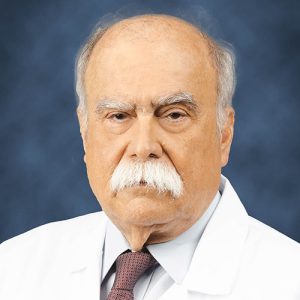 Dr. Tomas Salerno
Cardiothoracic Surgery, Jackson Memorial Hospital
Dr. Salerno specializes in adult cardiac surgery, off-pump coronary artery bypass/beating heart coronary, valvular, aortic and warm heart surgery. He is a graduate of McGill University School of Medicine in Canada. He is fluent in French, Italian, Portuguese, and Spanish.
Friday, April 22, 2022, 7 p.m.